Welcome to smsmasters.co.uk!
The latest technology news and information updated daily since 2002.

You are currently viewing our community forums as a guest user. Sign up or
Having an account grants you additional privileges, such as creating and participating in discussions.
smsmasters.co.uk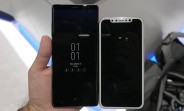 You know it's coming - the Samsung Galaxy Note8 and Apple iPhone 8 will compete for dominance of the premium smartphone market. Only half of the duo is official, however thanks to the numerous leaked CAD schematics, there are iPhone dummies floating around. Samsung Galaxy Note8 vs. Apple iPhone 8 The iPhone measures 143.5 x 71 x 7.5 mm while the Note8 is noticeably larger - 162.5 x 74.8 x 8.6 mm. Both phones have screens with wider-than-standard aspect ratios, though on the iPhone part of the top has been cut out to make space for the front camera and facial scanning...
Continue reading...
The second-generation of Pixel smartphones, the Pixel 2 and Pixel XL 2 will launch on Thursday 5 October, at least that's according to Evan Blass. Considering Blass' track record with leaks, we're sitting up and taking notice of this one. Google Pixel...
Continue reading...
British audio company Ruark Audio has announced the third-generation of R7 all-in-one audio system. First launched in 2013, the R7 has undergone numerous changes in its four year history, but along the way has retained its sensational looks.It still very...
Continue reading...
There are just two major flagship phone launches left in 2017, the second-generation Google Pixel phones and the Apple iPhone 7S, 7S Plus and iPhone 8. Apple iPhone 7S, 7S Plus and iPhone 8: What's the story so far? We've recently heard that the former...
Continue reading...
Skoda has confirmed it is working on integrating Amazon Alexa into its future in-car infotainment systems, to replace the current voice-controlled system. Apple CarPlay: Which cars support it, what can it do and how does it work? Alexa will offer more...
Continue reading...
Rumoured for what seems like forever and a few months since a soft announcement confirmed its imminent presence, the Nikon D850 is finally here.This professional-grade full-frame DSLR sits at the top of Nikon's camera line-up, as the replacement for...
Continue reading...
Android Oreo has now been
pushed to AOSP
, so now it's up for each OEM to announce timelines. And as usual, HTC is among the first big players to announce an official update confirmation for their flagship lineup. Last night, their USA team took to Twitter to announce which devices will receive an Oreo update worldwide. These devices include the
HTC U11
, the
HTC U Ultra
and the
HTC 10
.
We're excited to bring Android Oreo to HTC U11, HTC U Ultra, and HTC 10 owners worldwide! Details & additional devices to be announced soon.
— HTC USA (@HTCUSA)
August 22, 2017
While they can't share a timeline at the moment, they said that more details and additional devices would be announced...
Even though Android has existed for years, it is still far away from being a perfect smartphone OS. There are plenty of areas which could see improvements, and slowly but surely, we're inching towards a more polished product. One such change area is how Android handles media key event listeners, and
one of the commits
in
Android Oreo
fixes an oversight present since the earliest of Android's days.
In previous versions of Android, any application installed on a particular device could grab media button events at any time, only for any other app to wrest it away. So when you do press any media button events such as play/pause/next/previous, the command may not reach the app you intended it to reach. One of the most common examples of this behaviour is seen with Pokémon GO and music playback over...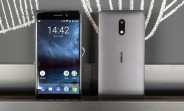 The Nokia 6 just went on sale for the first time in India and was sold out in less than 1 minute - just like it did in China. The flash sale took place at Amazon India and had gathered more than 1 million registrations. The next flash sale is at 12PM on August 30 - exactly one week from now. The price of the phone is INR 14,999 ($235). There's no word yet how many devices were available in the flash sale. Source | Via
Continue reading...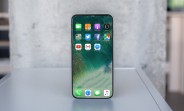 The upcoming iPhone 8 will launch in three storage options - the base 64GB, a middle 256GB and a whopping 512GB one - and all three will have 3GB of RAM and the new Apple A11 chip. This means Apple will doubles the available storage options compared to the iPhone 7 lineup (which has 32GB/128GB/256GB). Alleged iPhone 8 storage The information comes by way of a China leak showing the alleged 64GB storage chip, built by Sandisk. According to the source the 64GB and 256GB flash storage will be manufactured by Sandisk and Toshiba, while the 512GB unit by Samsung and Hynix. We...
Continue reading...